NOTE: THIS WIKI IS NOT TO BE CONFUSED WITH THE 2001 CANCELLED N64 VIDEO GAME, WHICH CAN BE FOUND HERE: http://dinosaurplanet.wikia.com/wiki/Dinosaur_Planet_Wiki
Welcome to the Dinosaur Planet Wiki!
Edit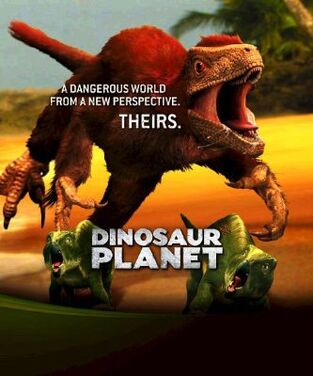 Welcome to the Dinosaur Planet Wiki! I hope you can contribute and expand on this mini-series! Information for this show isn't sparse so I am surprised there is no proper wiki (in good english, anyway). There is another wiki, but it has long since been abandoned, and I would like to redo Dinosaur Planet here on Wikia. If you have anything to add, please do it. I am counting on you!
About Dinosaur Planet
Edit
Dinosaur Planet is a four-part dinosaur documentary that aired on the Discovery Channel in December 2003. It received two Primetime Emmy Awards in 2004 for sound editing and mixing. It was hosted by Scott Sampson and was narrated by Christian Slater. It follows 4 different dinosaurs, each with their own goal - and they must reach it.
Latest activity
Edit
Photos and videos are a great way to add visuals to your wiki. Find videos about your topic by exploring Wikia's Video Library.
Ad blocker interference detected!
Wikia is a free-to-use site that makes money from advertising. We have a modified experience for viewers using ad blockers

Wikia is not accessible if you've made further modifications. Remove the custom ad blocker rule(s) and the page will load as expected.