In each episode of Dinosaur Planet, various palaeontology segments occur, discussing various fossil findings, dinosaur behaviour, and catastrophic events that occurred during the Mesozoic Era. Hosted by real life palaeontologist Scott Sampson at the Utah Museum of Natural History, these segments occur three times per episode, and give a fascinating look on the world of dinosaurs. Each episode, three different topics are discussed, and are given proof or explanation to back up the claims, however, few cases are ever officially proven in the world of palaeontology.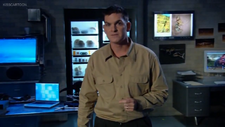 Ad blocker interference detected!
Wikia is a free-to-use site that makes money from advertising. We have a modified experience for viewers using ad blockers

Wikia is not accessible if you've made further modifications. Remove the custom ad blocker rule(s) and the page will load as expected.